Simple Outfit Formulas
February 24th, 2020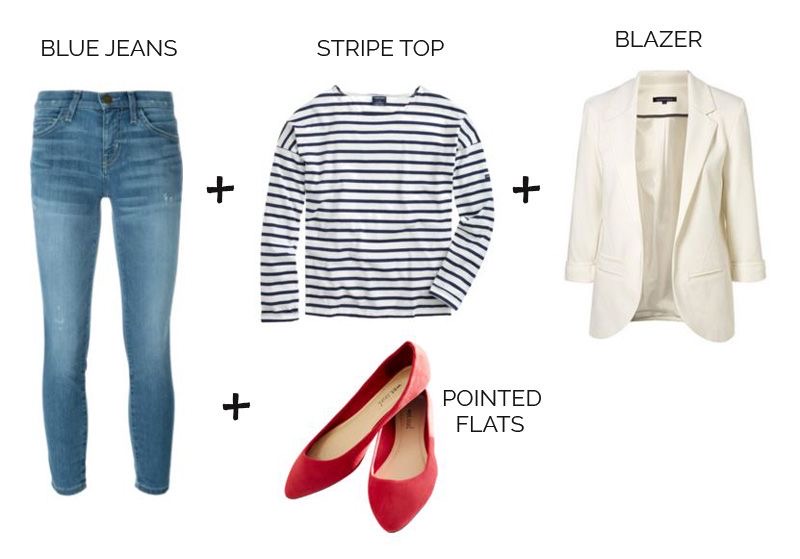 Have you ever thought to yourself, "I have tons of clothes in my closet, but I can't find anything to wear." If so, you're not alone. Many of us struggle to put amazing looks together day in and day out. I'm here to tell you that a solution exists, and its called an outfit formula. Outfit formulas are simple equations that include a few curated elements from your closet to create effortless looks. It's like math but not:
Business Casual Outfit = Light-Wash Jeans + Black Blazer + Patterned Top + Black Moc Croc Booties + Tote
I love working with outfit formulas because they help us maximize our closets, build capsule wardrobes, shop for new items, and feel our best every single day. Ultimately, they save us time and mental energy—both of which are in short supply these days! Anyone can implement this technique (not just the stylists) for any style, season, or occasion.
The fashion resources, www.WhoWhatWear.com, has my "go to" guidelines:
"The magic equation is this: one basic (a closet staple such as a plain tee, jeans, or a pencil skirt), plus one interest piece (something that makes more of a statement—color, pattern, and texture are encouraged), plus one or more completer pieces (an item that makes the outfit feel more thought-out—think a jacket, a cardigan, or, if it's warm outside, a statement accessory like a scarf, hat, or belt), plus standard accessories (pieces that you don't normally leave the house without, like a purse, jewelry, shoes, and sunglasses)."
Just make sure to consider the proportions and colors that look the best on you. Finally, always include items that you love wearing and that make you feel like you!
Happy formulating!