Style Journey with Sara Bozich…
March 15th, 2021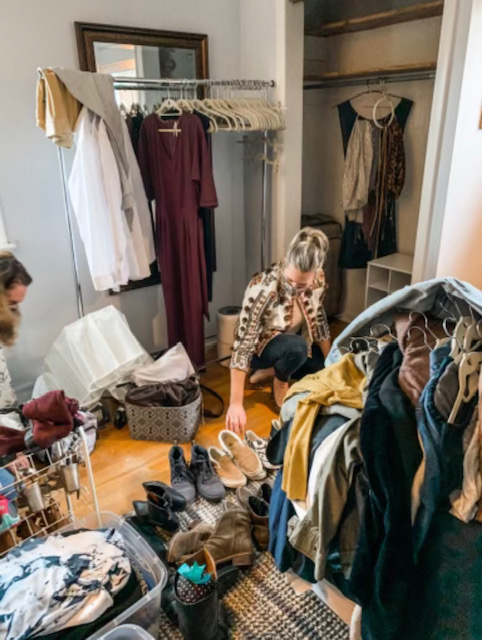 PART I: EDIT AND ORGANIZE
Threads of Hershey has been partnering with Sara Bozich, an entrepreneur who runs a consulting firm under the same name, for several months. Sara has been the go-to source for Central Pennsylvania for almost two decades, and she now uses her experience to help market and promote local companies, products, and services like ours. We approached her about editing her closet and exploring her personal style. The timing could not have been better… Sara had been working from home for about 10 years, long before the COVID lockdown, and was struggling to find her style outside of sweatpants and leggings. We hope that Sara's story inspires you to explore the many benefits of working with a personal stylist.
Have you ever considered working with a personal stylist? Sara probably hadn't, but we somehow convinced her (during COVID) that it would be cool to let two women (strangers) into her personal space (bedroom and closet) to edit (throw away) clothes that didn't work (meet our standards). We joke, but that's probably what she (and others) envisioned when she thought of a personal stylist. Many people hesitate to call us because they are fearful that a closet edit is all about loss, rejection, and criticism. In reality, the process is about defining your style by reimagining how display and wear your clothes, boosting your confidence through newly styled looks, regaining control by letting go of items that you don't love, and saving you time and money by giving you the tools to shop strategically.  These were all things for which Sara was searching…she just didn't know it.
During the edit, we encouraged Sara to examine every item in her closet. We asked her questions about fit, function, and versatility. We encouraged her to be intentional about what she kept and what she discarded. This step was important because it forced her to reconnect with her clothing and honestly examine how she wears it. We could easily detect from Sara's body language if she loved a piece or if she needed permission to let go. Many of us feel obligated to keep things that we no longer love, received as a gift, or that holds special memories, whether they are good or bad. Like the hundreds of clients before her, we taught Sara that when you let go, you reduce stress and create space for joy.
We also organized Sara's closet so that she could easily see her clothes and assemble looks. The peace that she got from seeing her items streamlined and edited is why we love our job. You could tell that this was the start of something special for her…and for us.
Stay tuned for more of Sara's style story!