Pivot Your Fashion Purchases This Summer!
June 1st, 2020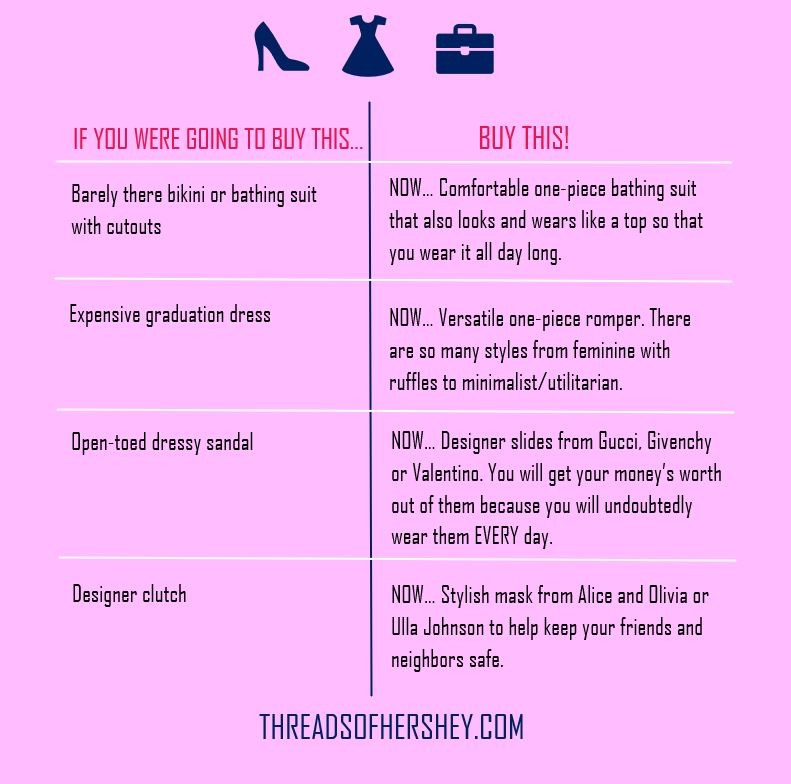 Although things are slowly returning to normal (Hershey moved to "yellow" on Friday), graduations, weddings, engagement parties, concerts and major sporting events are, sadly, still a bust. It got Kristin and me thinking….How do we pivot our purchases now that we won't be buying new dresses, strappy heels, or designer clutches? What can we buy instead? Can we still dream about stylish and beautiful fashions? The truth is that we need to keep shopping because if we don't, our favorite stores, like Nieman Marcus (already filed for bankruptcy) and our beloved hometown boutiques, will cease to exist.
We love the premise of swapping one fashion item for another as a way of making modest, but stylish shifts in our wardrobe. In the past, we made small-scale swaps like replacing black cotton leggings for sleek leather ones and replacing skinny dark jeans for edgy, distressed wide-leg denim. We realize that the swaps we are proposing are larger in scale—sophisticated graduation dress for an easy breezy romper–but we tried to identify wearable items that will bring you joy the entire summer, not just for one event.
The bottom line is that fashion fills us up. It affects our overall health and happiness. Our style tells a story. There is great power in dressing well and looking good. Clothing lifts our mood, gives us energy, and opens doors. We can't abandon all that we know and love, all that is good in the world, all that is fashion!